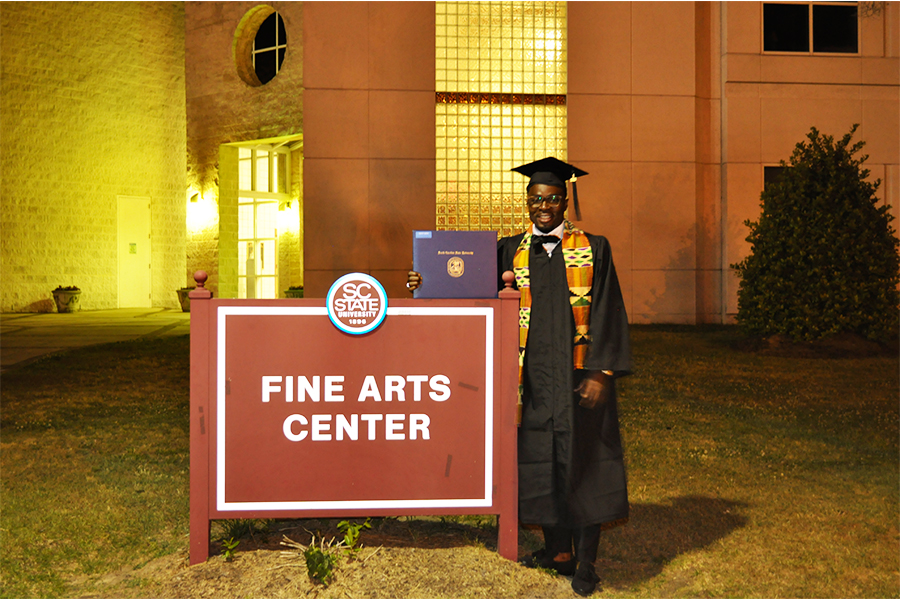 On Friday, May 8th, 2015, I, Eganam Segbefia stood a Proud Alumnus of South Carolina State University. Seven years ago, if you would have told me that I'd have to travel 735 miles to and from South Carolina to pursue a Music Degree that would take me Seven years instead of four years, I would have told you to find another fool.
As I reflect on my last seven years, I can't help but feel grateful and blessed for the many opportunities I've had to grow. If I was given the choice to go back in time and change any of my experiences, I wouldn't, simply because; I am happy with who I am, where I am today, and where I see myself in the future.
The first day I set foot on campus, I hadn't the slightest idea of what my journey would be as I matriculated through the Music Department. I hadn't the slightest idea I would meet all of the wonderful people that I did and the helpful professors who would guide me through my courses. I had no clue the number of lifelong friends whom I would grow close to. I hadn't the slightest idea that I would run a world-renowned business and achieve a milestone; breaking the Guinness World Records for the World's Largest Sculpted Cake… All that was on my mind was, "I am 735 miles from home and how long till thanksgiving break?"
This time last year, I was out of school. I failed to pass the Praxis II Content knowledge test, and had to take a semester off to study for it. I retook the test on April 11th but missed the passing score by 2 points. I began to think, what if I don't finish college, and pursue a career in performing? The great Miles Davis did it, look how he turned out. I decided to do just that. Although I had only one semester left to graduate, it didn't phase me. That was my plan and I was going to stick with it. I began performing, created my own business cards and even my own performer's contract, and things were going quite well. But it wasn't until I overheard a conversation about me when I interviewed for an afterschool percussion teaching position that I realized the importance of earning a college degree.
That conversation opened my eyes to the importance of being an educator, specifically a music educator. An educator is one who not only provides an education for students, but one who is also a mentor, and a role model for students. I can't advise my students to go to college and get an education if I failed to graduate myself. That would make me a hypocrite! I chose to re-evaluated my thoughts and began studying for the Praxis II test. I retook the test July 18th with hopes of passing it just in time to return for the fall 2014 semester, but after another failing score I found myself back in the same boat. What do I do now? Giving up was definitely not an option. I decided to discipline myself, change my habits and focus on the most important thing at the moment, which was passing the Praxis II. I created a weekly study schedule and signed up for the test again on September 18th. This time I passed the test! I was proud and really excited that I was able to pass the test after so many setbacks.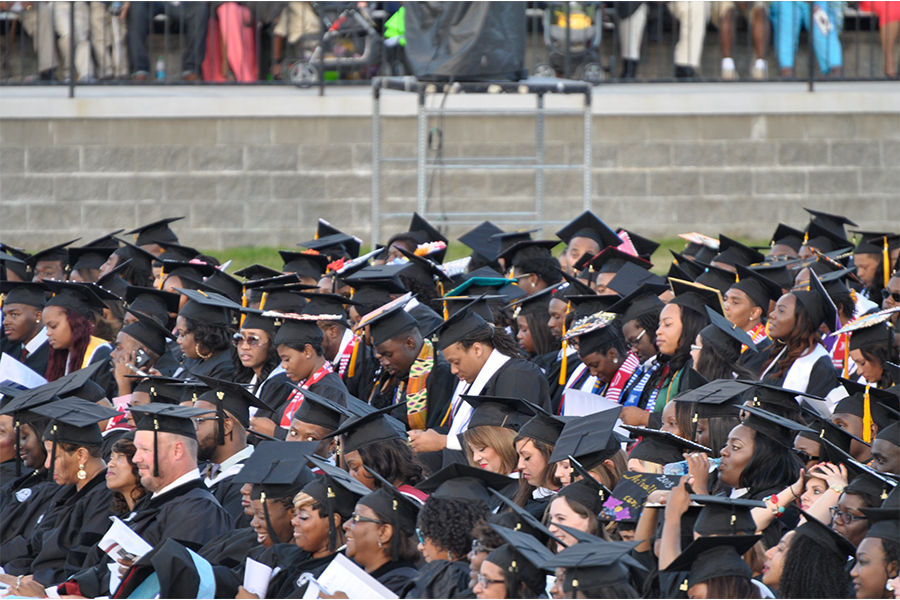 I returned to school this past January with only one thing in mind, Friday May 8th, 2015, 7:00pm at Oliver C. Dawson Stadium… Graduation, and nothing was going to get in the way of that.
Friends of mine were happy to see me when I returned to school and eagerly inquired when we would be able to hang out. But this time was different. No hanging out until after April 29th. I began my student teaching on January 29th at Orangeburg-Wilkinson (OW) High school. I took my trumpet with me to school that first day and decided to practice during my free time. I practiced for about 20 minutes and students began to walk in as the bell rang for the next period. As the students filed in, they listened to the different pieces I performed and after about 15 minutes of listening, one of the students came up to me and said, "Wow… You're really good! Can you teach me to play my trumpet like you?"
And at that very moment, right there, it all clicked. Everything started to make sense, the reason why I decided to be a music educator, and the reason why I decided not to give up and return to school.
My experiences at Orangeburg-Wilkinson High School have been nothing short of an amazing experience. I've encountered so many things that have enhanced my professional growth to the point where I am confident in who I am and what I stand to represent. A few of the most important values I learned at OW High school are;
caring for others around me, being punctual, dressing professionally, remaining disciplined, use of time management, and maintaining a constant source of inspiration. These "badges of honor", so to speak, are the most important things I wear proudly because they are what students should look for when they come to school.
As I conclude the most important chapter of my life thus far, I always remember the many wonderful experiences I gained at South Carolina State University and I will continue to use them to help guide me on this journey through life. One major thing I've learned in these last seven years is, no matter how crazy, how hard, or how many curve balls life throws at you, you must regroup and remain focused, and hope and pray yourself to your ultimate goal. Now, more than ever, I'm fixed and focused on one main goal, to win a Grammy award.
As the late Orangeburg-Wilkinson High School principal Mr. David Norman always said, "The race to excellence has no finish line".